Bitcoin Shot Up To $44,000 As US Inflation Hit 7.8% In December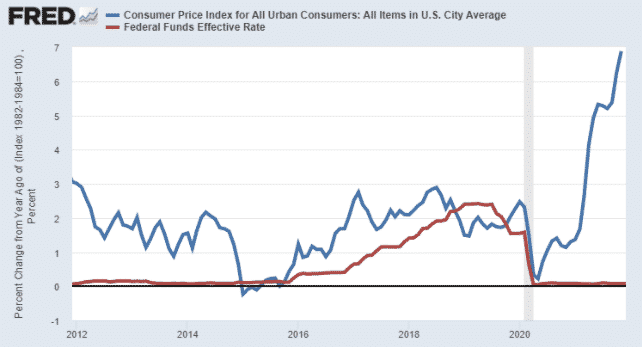 Bitcoin shot up to $44,000 recently while the US inflation hit 7.8% at the end of 2021 climbing by 0.5% month over a month as we can see more today in our latest bitcoin news.
The latest figures from the US Bureau of Labor statistics show that the consumer price index hit 7% in December. Bitcoin was quite volatile before the announcement and fluctuated over $2000 from lows of $41,000 to $43,000 and before the release of the figures, the price continued to climb and it touched $44,000 and now Bitcoin shot up to that price level. Before the announcement, Twitter was filled with speculation and according to the polls, 53% of the 580,000 followers expected CPI to overshoot the consensus estimation of a 7% inflation.
December CPI comes out tomorrow and has a decent shot at reaching 7%+ year-over-year.

But then unless monthly inflation accelerates from here, the year-over-year figure will likely peak within Q1 2022. pic.twitter.com/7hjA3ehAXI

— Lyn Alden (@LynAldenContact) January 11, 2022
The graph for inflation from the FED over the past 10 years is eye-opening and since the pandemic, it was marked with grey the inflation level plummeted before starting a new climb to 7%. Castle Island Ventures' Nic Carter commented on the data update and in anticipation of more inflation rises, he joked that he is looking forward to an inflationist cope If CPI prints double digits. The inflation rates became a paramount concern to developed countries worldwide but especially for the US. 7% is the highest inflation rate since the 1980s and the traditional markets including the S&P kicked off in the green of up 0.36% while BTC was up 2.8% in the morning action.
As recently reported, It's worth noting that we saw around $350 million worth of liquidated long and short positions in the past 24 hours which only shows the huge volatility. The traditional markets didn't make an exception as most of the market-leading indexes like the S&P500 opened in the red. There are some exceptions and even though it went through turbulent times, NEAR Protocol is up 13% in the past day while Olympus' OHM is down by 30% making it the coin that lost the most.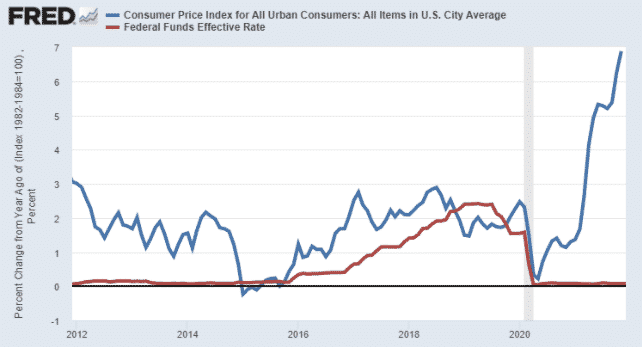 The past 24 hours were quite exciting in the crypto market which went on a rollercoaster. The entire ordeal left about $350 million worth of liquidations as BTC dipped to a multi-month low below $39,000. Now bitcoin finally rebounded to $42K. Yesterday was quite a difficult day which was characterized by a drop in the price of the leading cryptocurrency. The daily candle opened and closed at the exact same time with a 0.07% decrease.
Go to Source of this post
Author Of this post: Stefan
Title Of post: Bitcoin Shot Up To $44,000 As US Inflation Hit 7.8% In December
Author Link: {authorlink}